Welcome to S*Mijmu Pix Siamese
My name is Emma Kronvall and I live in Stockholm, Sweden, with my three siamese cats and Saffy the whippet. The prefix S*Mijmu Pix was registred in SVERAK, FiFe, in February 2006. In April the same year the first litter was born.
I have a small breeding with only a few litters over the years. The cats are highly beloved (and quite a bit spoiled!) members of the family and their happiness, health and wellbeing is very important to me. I focus on breeding pure breed siameses – siameses with only siamese in their pedigree and behind.
Please check out the pages "Katter" (the cats) and "Historik" (History) for more info about present and past cats and litters. More info about plans or kittens (in English) you will find if you scroll down a bit on this page.
You are most welcome to contact me if you have questions or want to know more about cats or kittens.
Emma, S*Mijmu Pix
info@mijmupix.se
New homepage launched
June 22 2020
Our homepage has a brand new look!
I hope you enjoy your visit.
Kitten plans this summer
June 22 2020
Fingers crossed for another litter out of our Tanssi late summer. Read more about the combination further down this page
Getting a cat is for life, and something that shall not be taking lightly. As a responsible new cat owner I expect that you have been thinking this through very carefully before buying a cat; siamese or other breed or domestic cat. Do I have the time, the economy and the space for a cat in my life, right now as for many years to come? Is the siamese cat the breed for me?
Siameses are active, very social and highly intelligent cats. They have a lot of energy, loves to play and and are very qurious little Superheroes who loves to explore high and low.
Siameses are social cats who don't like to be a lonely cat. A lonely siamese are most often unhappy, so having two siameses is highly to recommend.
Many siameses are very talkative and you can have long conversations. You always get an interesting and clever answer when talking to your siamese!
Emma, S*Mijmu Pix
info@mijmupix.se
Kittens from S*Mijmu Pix are ready to leave home when they are 14-16 weeks old. By then they are:
– registrated in SVERAK, Fife, and have a SVERAK pedigree
– Fully vaccinated
– Microchipped
– Dewormed
– Have an insurance in Agria for undetectable faults during the veterinary exam for three years
– Mum and dad Cat are tested for FIV and FeLV before the mating. The cats are also tested for the parasites TF and Giardia.
The kittens comes with an health certifficate of maximum 7 days old when they move to their new home. They also bring their own little bag with a blanket that smells like mum and siblings, toys and food that they are used to.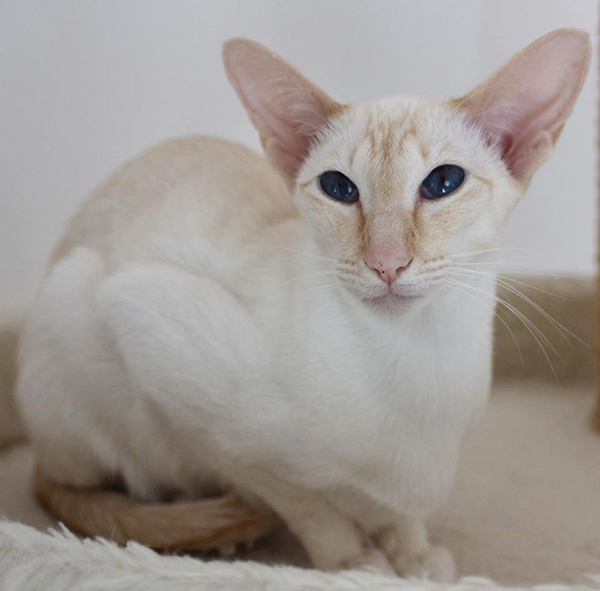 We cross our fingers and hoping for kittens later this autumn, the same combination as litter 9:
e: Geishagoll Winter Walkabout, SIA a
u: (N)Sacred Soul´s Northernlights, SIA d
Expected colours is red or/and creme colorpoint males and tortiepoint females.
At the photos to the left you can see mum Tanssi Below is a picture of daddy Ciao and their daughter S'Mijmu Pix MaTaddo from litter 9, born 2019.
If you have questions about the cats or future kittens please send a mail.